*GENERAL*
Full Name: Unknown
How did you find us?: Google
Hero Title: Forest Shadow
Age: 27
Gender: Female
Sexual Preference: Men
*PHYSICAL DESCRIPTION*
Height: 5'10"
Weight: A lady never tells
Hair Color and Style: Long black hair tied with a white ribbon in a low pony tail.
Eye Color: blue/green
Clothing: Pale skinned, mostly wear a plain white shirt with an un buttoned black leather vest, black pants and knee high hard leather boots she look rather out of style. A black eye patch with silver designs covering her right eye.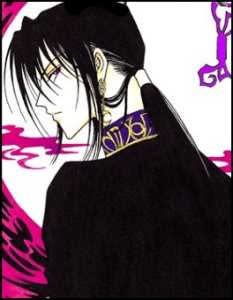 *ORBS* [Awarded by Admins or Moderators]
Green: 0
Red 0
Yellow 0
Blue 0
*STATS*
Mastery: Skill
Combo Points:
-Divide 100 points between these stats-
HP: 225 [Hit Points]
MP: 100 [Mana Points]
Strength: 45
Skill: 80
Will: 20
*EQUIPMENT and SKILLS* [Starters assigned by Admins or Moderators]
Melee Weapon:
Ranged Weapon:
Known Spells:
Armor: [Purchase in Shops]
Accessories: [Purchase in Shops]
Abilities:
*INVENTORY*
Gold: 500 [Starting]
Weapons:
Armor:
Accessories:
Usable Items:
Key Items:
History
There is little about herself that Forest Shadow remembers not even her name, she knows that at one point she went to the Hero Guild and learned there as many heroes did, that she left when she was old enough to be on her own. However she did not leave the Hero guild to explore Albion or earn fame and money she was never interested in that, her gaze was always turned toward the sea and what laid beyond the coast of Albion. Her return to Albion was as follow fishermen found her near the coast clinging to flotsam and clutching a guild seal(one was given to each Heroes). The fishermen brought her to the Hero Guild to recover and when she woke up a weak later her mind was in a shamble and could not for the life of her remember her own name except her title "Forest Shadow". Oddly enough none of the teachers at the guild could remember her or attest to the fact that she was a hero, the archives do mention "Forest Shadow" but the details are to few and look like someone went to great length to earase anything tangible about Forest Shadow from the history and as amazingly as it sound from people memories as well. When she was well enough Forest Shadow again left the Hero Guild and now wanders Albion determined to be more than just a footnote in Albion history.
Who said "Law is order in liberty, and without order liberty is social chaos."? -Archbishop Ireland